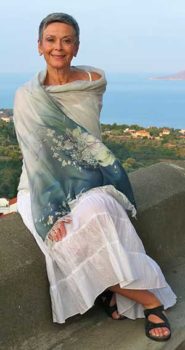 JULIE MALONEY, the third of four daughters, was born and raised in Newark, New Jersey. She has worked in the arts as a performer and educator her entire life and has performed professionally for several modern dance companies in New York City. Julie was the artistic director, choreographer and principal dancer of the Julie Maloney Dance Company for thirteen years. She is the founder/director of WOMEN READING ALOUD, a non-profit organization devoted to promoting women writers. Begun in 2003, WRA continues to attract writers throughout the world. Ms. Maloney is a trained workshop leader in the Amherst Writers and Artists Method, initiated in Amherst, Massachusetts. She holds a BA in English from New Jersey City University and a Master of Fine Arts degree from the University of North Carolina in the USA where she was awarded a fellowship and honored as a Distinguished Alumna. She is the recipient of a National Endowment for the Arts Awards where she worked as an Artist in the Schools.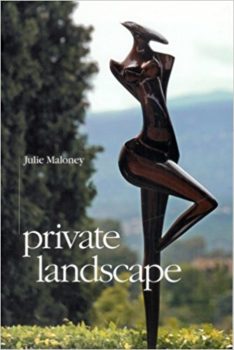 Ms. Maloney's book of poems, Private Landscape, published by Arseya Press, is an intimate look into the heart of a woman who traveled through cancer. She is a frequent keynote speaker on "Writing as a Life Tool" and leads an on-going writing series she founded almost ten years ago—"Writing to Heal"—at a major metropolitan hospital outside of New York City. As director of WOMEN READING ALOUD, Ms. Maloney leads writing workshops throughout the year. As founder/director of "The Writer's Weekend Retreat," she returned to the coastal town of Sea Girt, New Jersey for the 9th year in April, 2107 to lead this retreat. In June 2017, Ms. Maloney facilitated her seventh international writer's retreat in Greece on the magical island of Alonnisos in the North Sporades. She also leads an annual writing and yoga retreat in the South of France in Languedoc. She established the literary series, "Tea and Conversation," at the Bernardsville Public Library in New Jersey and continues to interview noted women writers and poets for this series.
Ms. Maloney has published in many literary journals such as, Paterson Literary Review, WomenKin, Edison Literary Review, Tiferet Literary Anthology, Valdosta Voice, Silk Purse Women and others, as well as MORE Magazine. She is a former columnist featuring women in the arts in a regional magazine.
Research for her debut novel took her to Bavaria, Germany, where she traveled extensively, including a visit to the Käthe Kollwitz Museum in Cologne,Germany. Käthe Kollwitz's drawings inspired "A Matter of Chance."
Julie lives with her husband outside of New York City.
Please visit the WOMEN READING ALOUD website: www.womenreadingaloud.org.